About our Business
Towards group sales of over 120 billion yen.
In FY2015, group sales surpassed 120 billion yen. From FY2015, we expanded into the "Lifestyle & Technology" business field and widened our business activities, such as with the start of our fashion rental service for monthly fee,"MECHAKARI". In FY2016, we made further investments in our future, such as an acquisition of the women's apparel company "ALPHABET PASTEL Co, Ltd." and baby & kids apparel e-commerce business "Smarby, Inc.". We also invested in the French "lifestyle" company "Kitsuné Creative S.A.S", as well as developed new brands; "AMERICAN HOLIC", women's apparel brand, and the soy food brand "913". Furthermore, our globally strategic brand "koé" opened its first store in central Tokyo, the "lifestyle" store "KOE HOUSE Jiyugaoka". In FY2017, in addition to further strengthening our e-commerce and technology businesses, mainly that of "MECHAKARI", we plan to open large select clothing shops in China, as well as koé's global flagship store in Shibuya. We aim to proactively expand our business activities both domestically and overseas, including the launching of our new brand "GARAGE OF GOOD CLOTHING". We will continue to proactively consider various strategic options including additional M&A and capital investments.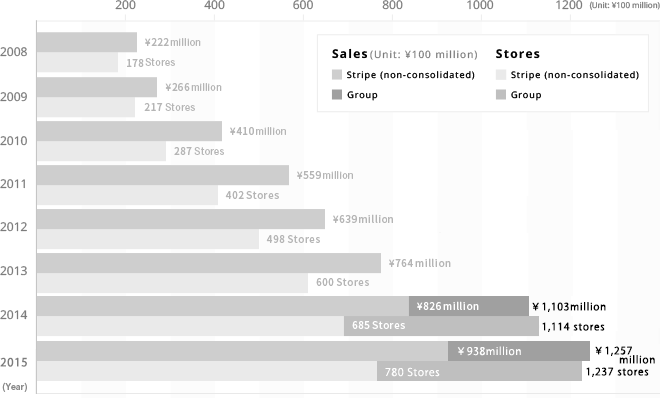 Expanding beyond apparel and into the "lifestyle" business.
We aim to expand beyond fashion to become a company that can provide wide-ranging solutions for people's lifestyles, including clothing, food and home furnishings. In addition to sales of cosmetics and ice cream, we launched a soy food brand "913" in FY2016 as a new food and beverage business. Also, our existing brand, koé, opened a "lifestyle" shop in Jiyugaoka featuring a salad cafe. In the near future, koé is planning to open its global flagship store in Shibuya, which will feature our company's first hotel. In addition to product sales and the opening of new stores, we organize events such as yukata events, vintage goods events and markets to create new lifestyle solutions. By offering products and holding events related to clothing, food and home furnishings, we are moving forward in developing businesses that help make our customers' lives fulfilling.
Utilizing technology to take our business into the future.
In 2015, we began the casual clothing rental service "MECHAKARI", the first for an apparel manufacturer. We also started sales of used goods on our e-commerce site "STRIPE CLUB". By enabling customers to select between renting, buying used items or buying new items, it is our aim to support the various needs of consumers while invigorating the fashion market. Furthermore, in 2016, the baby & kids apparel e-commerce business "Smarby, Inc." joined the Stripe group to expand the e-commerce customer segment. In the future, it is the aim of our entire group to construct a fashion e-commerce platform for all ages.