CSR
We believe that all companies have
a fundamental duty to contribute to society
Organizing "Eco Cleaners" cleanup activities
"Everyone involved in fashion should do their bit to prevent polluting the earth." We call on our employees and affiliated companies to take part in volunteer cleanup activities that we organize twice a year. We carry out cleanup activities on a regular basis, in locations throughout Okayama prefecture and in the vicinity of our Tokyo HQ. Over 2,700 people take part in cleanup activities, wearing original vests.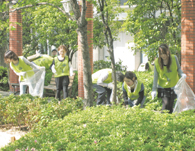 Organizing "Cool Okayama Fes" to promote
everything Okayama has to offer
We organize "Cool Okayama Fes" as a project aimed at revital­izing the local community in Okayama. For example, previous events have included "Premium Food" and "Premium Marche," which involved some of Okayama's leading restaurants setting up stalls and selling local food products in the village of Shinjo. Connecting local people with leading restaurants helped to breathe new life into the local economy.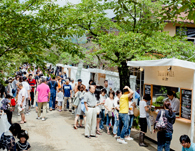 Fair supply chain initiatives aimed at creating clothes
that make everyone happy, whether making or wearing them
There are a great many companies and individuals involved in the process of making products and getting them to the customer. As well as the environmental and economic impact, there are also serious social issues to consider, including child labor, harsh working conditions, and environmental contam­ination from industrial waste generated from factories. To produce genuinely good quality products, we believe that we must confront social issues such as these and create better working environments. That is precisely what we are working to achieve.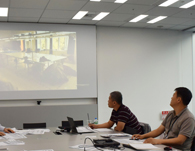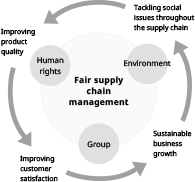 Providing support for young athletes, to instill a challenging
spirit and enable them to take on the world
We have started to provide support for young athletes who are keen to compete on the global stage, in an effort to breathe new life into domestic sport ahead of the Tokyo Olympics and Paralympics in 2020. To date, we have signed sponsorship deals with international figure skater Takahito Mura and with tennis players from Okayama prefecture (Issei Okamura and Kyoka Okamura). Both of these tennis players also work with our global brand KOE as employees, and serve as sports wear advisors. Disabled swimmer Remi Watanabe meanwhile is working towards securing a place at the Paralympics while working in our Personnel Division.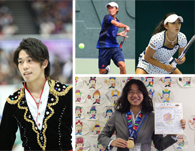 Environmental initiatives based on tree-planting activities,
bringing greenery to arid regions of China
We have been carrying out tree-planting activities as part of the "one tree project" in the Horqin Desert in the Inner Mongolia Autonomous Region of China since 2009. As a con­sumer country that reaps the benefits, we believe that we bear some of the responsibility for desertification, caused by excessive farming and grazing. That is why we continue to engage in tree-planting activities, so that we can restore lush areas of forestland. We have already reached our target of planting 80,000 trees at "Earth Forest," and intend to focus on management in the future, to create a fully-fledged forest. Our Chinese subsidiary, launched in 2014, will also be continuing with activities aimed at restoring greenery.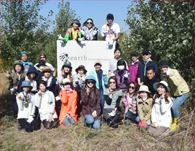 Ongoing projects to help with disaster recovery
We raised money across 37 stores in the Chugoku region and 43 in the Tohoku region in support of the recovery process fol­lowing the landslides that hit Hiroshima prefecture on August 20, 2014. Combined with donations from our customers, we raised a total of ¥3 million, which we then donated to help set up facilities for activities carried out by local students and a website to provide relief information. We had previously organized the Clover Project in support of those affected by the Great East Japan Earthquake. As a company that is active within society, we will continue to provide support for those stricken by disaster in the future too.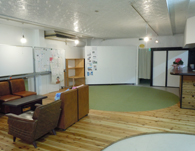 Regional revitalization initiatives in conjunction
with the Ishikawa Foundation
The Ishikawa Foundation organizes projects aimed at enhanc­ing and promoting culture and the arts, and at helping to create and develop a rich local culture, primarily in Okayama prefecture. We provide support for a range of initiatives, including the "Okayama Award" scheme, which was created to give a boost to the economy and culture of Okayama prefecture, and to help entrepreneurs looking to revitalize the region. We also support arts festivals, with the aim of increasing interaction between different generations and na­tionalities, and nurturing greater sensitivity amongst future generations of children by bringing them into contact with art at an international level.